Fresh-food Vending Is Now A Reality Within Your Reach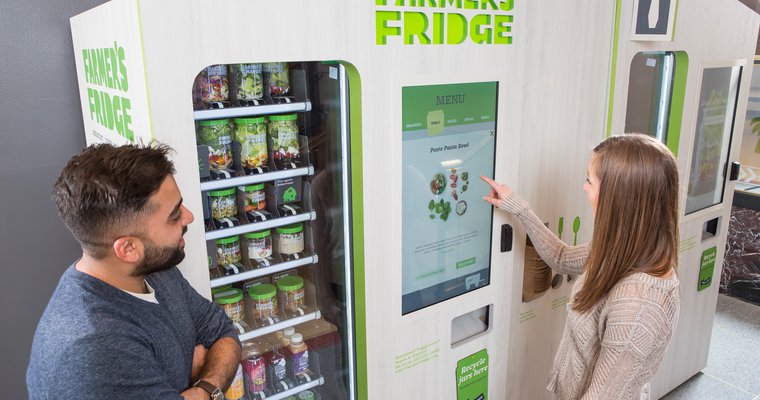 Not long ago people would have laughed at you if you were to suggest to them about fresh food vending machines. This is because many genuinely thought that fresh food can never reach this segment of distribution. We know for a fact, that today, that is not the case and that fresh food vending is now a reality, not just a mere reality but most sought after work place food options across Scotland. 
You would have already heard about fresh food vending machines, and you would have even considered fresh food vending machines for your workplace food needs. Vending machines scenario needs not always be limited to unhealthy food and junk food. It is now possible to bring healthy food that are customised to your specific needs to your workplace through self-checkout kiosk vending model or full micro market model. This would completely remove the need to run a fully staffed canteen that is not only expensive, but also laborious to timely to staff and manage. 
If you are unsure whether fresh food vending machines or micro markets would be ideal for your situation, then you better talk to a reliable vending machines company, so that you could gain some clarity on how the entire system works and how well it could be customised to meet your needs. 
Fresh food vending machines companies do not just stop with installing the vending machines or self-checkout kiosks in your facility, but they also have their own in-house kitchen that operates 24×7 to keep the kiosks in their client locations fully stocked. You need to do your research well before you signup for one such service. A number of important factors need to be taken into account, before you select your vending machines company. 
They must provide you with highly reliable equipment, have a fully-equipped kitchen of their own that is well-staffed and provide highly dependable customer service, so that the micro markets run smoothly without any glitches and without any shortage of fresh food. 
When you setup your micro markets on site, your staff and customers will have access to fresh food and healthy food round the clock. They will be able to save time and money as they would not be required to drive every afternoon for the lunch, or for a healthy snack. 
Initially the entire project of setting up your micro market could seem to be a highly overwhelming process. In fact, it need not be so and all that you are required to do is to spot the best micro markets vending machines company, and share your requirements with them and the rest would be taken care by them. You just need to oversee whether everything is managed as promised from time-to-time audits. When compared to running a fully staffed canteen, you need to take just a fraction of time. Moreover, this has proved to be a highly cost-effective model that with give your huge savings year after year. Find the right partner now to set up your fresh food vending machines.